Housing
---
April 20, 2023—When most people consider purchasing an electric vehicle (EV), they have to account for the cost of an electrician making upgrades (panel, plug, etc.) to accommodate it, and that can cost up to $5,000 in some markets. This additional cost has become a barrier for EV adoption, and the added loads of EV charging can also put a high amount of stress on the electrical grid.
NeoCharge aims to tackle these problems with its innovative smart splitter product.
"We're helping to optimize home energy usage," CEO and Co-founder Spencer Harrison said. "We created a 240-volt splitter that helps people install EV charging in their home without having to hire an electrician. The splitter allows you to install something in a home that you can take with you, which is especially important for renters. It's a plug and play solution that makes it easy to plug in and take it with you when you leave."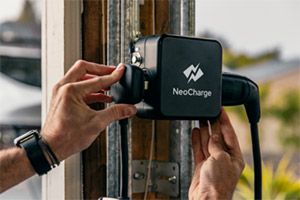 The splitter lets customers plug in with an existing 240-volt (e.g., dryer) outlet and can even charge two EVs at the same time. It also has the capability to help the electrical grid by reducing overnight loads. If all EVs charge on separate circuits, then utilities might need to upgrade their transformers. A smart splitter, like the one NeoCharge develops, allows users to charge EVs at half power overnight. Utilities are now even incentivizing this tactic because of the demand savings, further inspired by the Inflation Reduction Act (IRA).
The utilities NeoCharge already works with include SoCal Edison, Tacoma Power, and Silicon Valley Clean Energy (SVCE), which is a community choice aggregator (CCA) that works with PG&E. CCAs provide clean energy to the grid for utilities.
NeoCharge is also developing an app that helps identify ways people can become more energy efficient in their homes. They aim to release it in 2023.
"You can think of it as an app for an EV driver," Harrison said. "We integrate data to help you save money on your utility bill and reduce emissions. We'll help optimize your home, and you can also track your charging. It will help with one car, multiple cars, or even appliances in the home."
NeoCharge continues to work with National Renewable Energy Laboratory (NREL) experts through the Wells Fargo Innovation Incubator (IN2) program to develop its products. NREL's work involves testing the smart splitter and its interactions with different devices to help NeoCharge incorporate more household appliances, especially as more homes become electrified.
"We're looking at: how does this interact with other devices?" Harrison said. "We're also hoping for NREL's help testing our software to see how it could affect the grid on a larger scale. Any improvements to our products are going to be helpful."
Harrison said he believes homes need to electrify to reach global decarbonization goals, keeping equity in mind while doing so.
"Ultimately, we need everyone to be part of it, so we meet our goals, and we don't completely screw up our planet," he said.
This growth will inevitably put more strain on the grid, and NeoCharge wants to help optimize energy usage to support the grid through this transition.
"At the end of the day, our electric grid was built more than a century ago, and it wasn't built to handle all these electric devices that are coming on the market," Harrison said. "We need to find ways to reduce load on the grid. There's a big opportunity, and there's something we can do with our skills to make an impact."
---

More Housing Stories