Advanced Manufacturing, Housing
---
Technology innovation can impact markets in big ways. But often, those impacts are only obvious to industry insiders who are focused on important, but incremental change. Not so with IN² portfolio company Blokable. In 2020, this housing developer and creator of building systems provided actual, tangible affordable housing to a dozen people … and it's just the beginning.
In December 2020, Blokable completed its Phoenix Rising housing development in Auburn, Washington. The project features Blokable's vertically integrated development and building system in which energy efficiency, quality, and livability are integrated into every stage of housing development, construction, and ownership. It's a multilayered approach that co-founders Aaron Holm and Nelson Del Rio think will fill the ever-increasing gap between people who need housing and people who can afford it.
The Phoenix Rising development includes five studio and seven one-bedroom apartments. The homes are designed for residents who earn 30% of the area median income, are all-electric, and are estimated to be 60% more energy efficient than comparable housing. The development was built in partnership with the state of Washington and financed by Blokable and other private investors.
A Housing System
"From the beginning, we were not motivated to create a nifty product," Holm says. "We were addressing the core structural issues in the housing market." Holm explains that he and Del Rio, who met in 2015 after starting and selling companies on their own, decided to address housing efficiency by providing a new paradigm to the entire industry. "Our vertically integrated modular system combines all the aspects of development—land acquisition, product development, manufacturing, and ownership. We believe we need to get rid of the fragmentation and the project by-project nature of the housing industry."
It's a lofty goal. The Blokable system is designed to meet the most stringent building codes and standards. The company achieves financial goals by attracting investors for both market rate and affordable development, and forming public-private partnerships that reduce the need for public subsidies for affordable housing. Most important, Blokable is committed to providing high-quality, safe, and comfoIN²rtable housing—almost completely assembled in a factory and delivered to a site by flat-bed truck and crane.
The Blok at NREL
At the core of the building system is the Blok. That's where IN² comes in. The National Renewable Laboratory (NREL) and IN² are compiling energy data and validating the efficiencies Blokable is working to achieve with its prefabricated construction. The team recently installed a Blok on NREL's Golden, Colorado, campus. "We are working with IN² to evaluate energy efficiency at multiple stages in the construction process, so we know the full life cycle of energy use," Holm says. He explains that includes waste reduction in manufacturing and along the whole life cycle. "NREL's work is important. We want qualified and reliable data gathering and evaluation. That's how we'll move the industry to a more performance-based and entire systems approach, rather than only looking at single products."
The goals are in close alignment with NREL's own. "NREL's mission is a clean energy future and this is a great opportunity for us to work with the people building housing so we can integrate clean technologies to bring us to a zero-energy housing market," says Stacey Rothgeb, the senior engineer who is leading the Blokable project at NREL.
"Additionally, being all-electric, these units are supporting our clean energy grid of the future. We like to see buildings becoming enablers of renewable energy and a more dynamic energy system." The close association between lower, more predictable energy bills and affordability is also of importance to the NREL team, as is working on a project where quality housing can be built quickly.
And the Blokable team says the very tight energy envelope of the Blokable units are providing a test bed for more efficient heating and cooling systems. That is work well-suited to the Blok on NREL's campus, and researchers are setting up those projects, now.
Next up for Blokable: They'll be watching the Phoenix Rising data closely, comparing it with the data from conventional buildings on the same site, Holm says. "This is really important to us and to NREL. We're connecting the dots between energy efficiency and housing affordability."
Learn more about Blokable.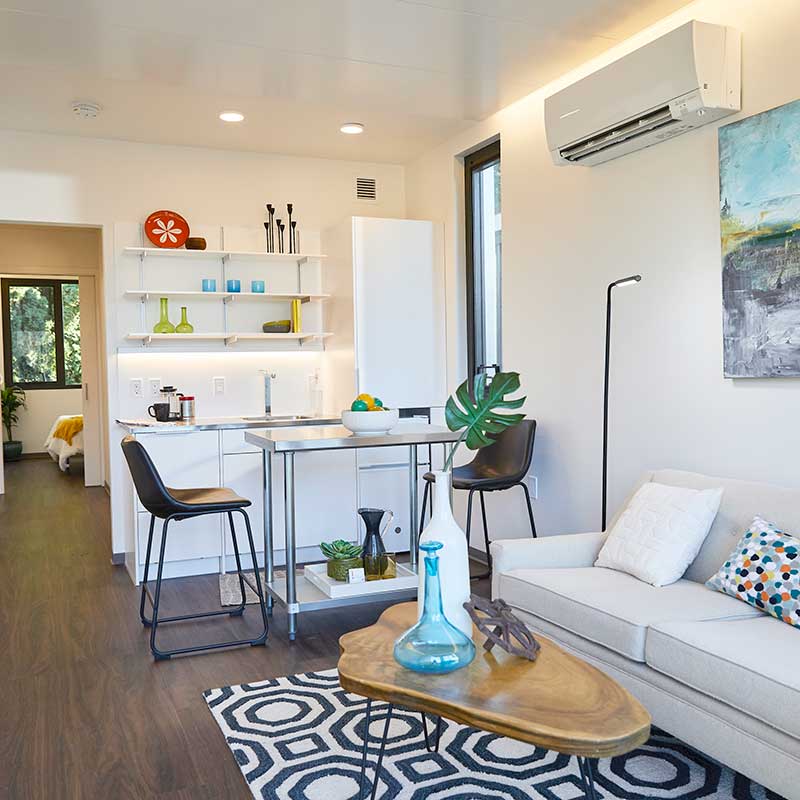 ---

More Housing Stories