Agriculture
---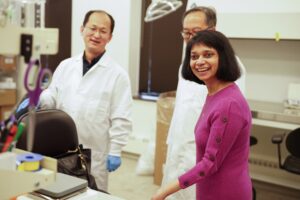 February 16, 2023—In plant biology, one cell becoming two is a common and rapid occurrence, but one plant biology company becoming two is typically a rare and slow occurrence. However, a catalyst provided by the Wells Fargo Innovation Incubator (IN2) in 2022 enabled Plastomics, an IN2 cohort company, to divide and a new company, Solis Agrosciences, to quickly sprout.
The catalyst: an award given to BioGenerator, a member of the IN2 Channel Partner Network that helps introduce promising startups to the IN2 pipeline. BioGenerator recommended Plastomics for the IN2 program in 2020 and helped Solis Agrosciences get its start in 2022.
The creation of Solis began when Plastomics' clients kept asking for services Plastomics could provide, but it took them away from their core product and mission.
Plastomics' goal is to be able to successfully manipulate the DNA inside chloroplasts in plants. This is a new field, because previous efforts focus on manipulating the DNA inside a cell's nucleus. If Plastomics is successful, it will be much easier for future plant trait manipulation. However, many organizations simply want changes brought about by current nuclear methods.
"Plastomics was starting to get requests for fee-for-service work that was not core to their main purpose," Solis Agrosciences, Inc. President Dr. Mary Fernandes said. "Plastomics was developing a proprietary chloroplast transformation technology, but they were getting requests to perform nuclear transformation. Plastomics did start one of these projects, but their board felt it would be more appropriate for them to focus exclusively on chloroplast transformation."
"When customers began asking for fee-for-service work, it started a series of events that led us to think we could stand up a successful new company," President of BioGenerator Ventures Charlie Bolten said. "It was a spinout of Plastomics and simultaneously a BioGenerator effort."
Without the financial award from IN2, enabling BioGenerator to build lab space, Solis would not exist—despite the demand for its services.
"The IN2 money in the spring of 2022 was absolutely critical to getting the company going," Bolten said. "An IN2 Channel Partner Award to BioGenerator funded the equipment purchase so Solis could build a lab and start commercializing research projects. It was the platform to turn the company into what it is today: 25 people and a greenhouse space. It's still early, but we're really excited."
Solis Agrosciences does not just work on nuclear transformation. It has added many new services and grown its list of clients. The first client actually came to Solis from Plastomics, so it started off with revenue right off the bat.
"After starting with nuclear transformation in soybean," Fernandes said, "we've expanded to gene editing, molecular biology, plant growth, and transformation in other crops such as corn, tomatoes, and rice. We've really expanded quite a bit and generated a lot of traction with our clients."
Many of the companies Solis works with are startups themselves, trying to help establish their own products or technologies, similar to what Plastomics is doing. Solis helps these companies by providing specialized research that they cannot accomplish by simply adding a few people, Solis' fee-for-service work is key to its success. Additionally, Solis can provide this service easily to other companies in BioGenerator's portfolio.
"Mary is a world-class scientist and has the credibility to do the specialized work with the kind of expertise that often only resides in big companies," Bolten said. "Now, that's available to small companies. They can hire a world-class scientist and her team to drive their products forward."
For a company that only began in the spring of 2022, Solis is launching ahead. It also does not come with the same risks, such as regulatory or technical risks that other companies in BioGenerator's portfolio have. Typically, companies can take 10 years to do what Solis has done in less than one. All involved believe the future looks bright for Solis and what it provides.
"We're just getting started and there's so much to do," Fernandes said. "There are so many crops and companies we can help with our technology and services. We want to grow, become an integral part of the ecosystem, and help solve global challenges in food security and sustainability. We're really making a difference."
To learn more, visit Solis Agrosciences' website.
---

More Agriculture Stories