Portfolio
Startup companies selected to IN2 are chosen because they have a high probability of making a real impact on the environment once they reach the market at scale. They are providing viable solutions in affordable housing, commercial buildings, and sustainable agriculture.
We are positioned for growth. The IN2 model has proven its strength…and flexibility. We welcome discussions of new verticals – technologies in which  innovation can result in a low-carbon, sustainable future. Contact us at IN2@NREL.gov if you are interested in learning more about companies in our portfolio or are looking to incubate technologies.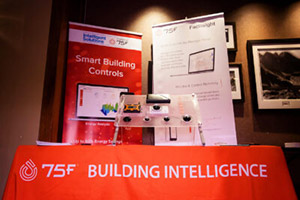 75F offers an easy-to-setup HVAC controls system that has the potential to save 80 percent in deployment labor versus traditional controls systems.
Visit site
75F
Cloud-based HVAC control system