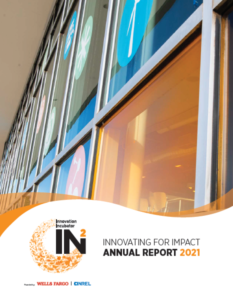 Seven years into the program, we know IN2 is but one link in the chain to a cleantech startup's success, but it is an essential connection that accelerates harvesting investments and movement into the market. To maximize our impact, we want our program to support the technology advancement and commercialization of cleantech innovations that will go on to make buildings more energy-efficient, agriculture more sustainable, and the next generation of housing more affordable to build and maintain. Discover the impact we continue to make on the world.
Highlights include:
In 2021 we reached, and passed, the $1 billion fundraising milestone
We embarked on a challenge to build an all-demonstration cohort
We awarded $350,000 through our Channel Partner Strategic Awards
Several of our alumni are already making a positive environmental impact
IN2 members in the agtech arena made major strides in reducing carbon emissions
Our Channel Partners provided real pandemic relief to startups.