CoverCress is developing a winter crop that is planted between corn harvest and soybean planting. It covers soil over winter, protecting it from harsh conditions and produces a low carbon intensity crop for use as renewable diesel and jet fuel, meal product for animal feed, and high quality food oil.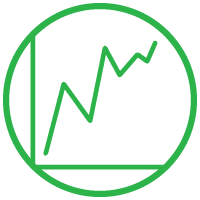 Innovative crops with low carbon intensity.
THE IMPACT
CoverCress has the potential to improve the dominant practice of the corn-soybean rotation by inserting a third crop that protects soil from erosion and keeps nitrogen and phosphorous in place from fall to spring. Their renewable fuel can then be used for applications in jets, diesel engines, and food.
HOW IN2 IS HELPING
This project is currently being scoped, stay tuned for updates!
TIER 1: BENCH SCALE

Concept development stage

Develop plans for prototyping & testing

3-5 years to market

TIER 2: PROTOTYPE

Available for testing & validation

Plans for development of final product

Less than 2 years to market

TIER 3: COMMERCIALLY READY

Models available in limited quantity

Integrated demonstration

Less than 18 months to market