Aker Technologies (Aker) empowers customers to understand current field conditions and make timely and accurate recommendations that enable farmers to more efficiently protect and water their crops. Automated scouting creates new datasets that are accurate, georeferenced, timely, and scalable, leading to better crop management.
Automated Crop Protection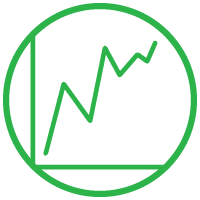 Crop monitoring technologies that detect disease, pests, or other stresses.
THE IMPACT
Aker's technology captures early signs of crop threats by creating regional maps of volatile pests and pathogens that warn nearby farmers of threats. This method of in-field crop scouting provides more efficient in-season agronomy management. These data help limit chemical use, reduce energy and water usage, and lower costs.
HOW IN2 IS HELPING
This project is currently being scoped, stay tuned for updates!
TIER 1: BENCH SCALE

Concept development stage

Develop plans for prototyping & testing

3-5 years to market

TIER 2: PROTOTYPE

Available for testing & validation

Plans for development of final product

Less than 2 years to market

TIER 3: COMMERCIALLY READY

Models available in limited quantity

Integrated demonstration

Less than 18 months to market